Cedar Bluff Police Department
CHIEF BRODY MOSES
SERGEANT DALTON COSBY

INVESTIGATOR KRISTINA DANIEL

NARCOTICS SHANE BUTLER

PATROL MICHAEL WYNN
PATROL SETH BISHOP
---
Cedar Bluff Volunteer Fire Department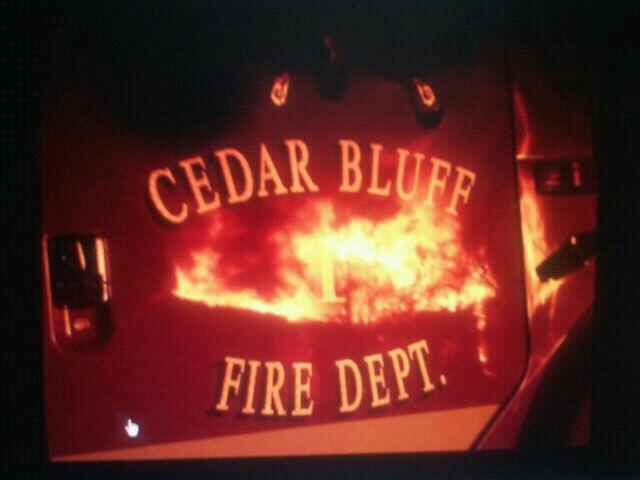 The Fire Department meets on the first Thursday of the month for a business meeting and on the third Thursday for training.
MISSION STATEMENT

The members of the Cedar Bluff Volunteer Fire Department shall strive to protect the lives and property of the citizens of the community of Cedar Bluff through fire suppression services, pre fire planning, and public education. We will serve this community to the best of our abilities and training. We are committed to continuously improving our understanding of the properties of fire and the fire prevention needs of our residents, the community of Cedar Bluff, the surrounding communities, and the state of Alabama.
Firefighter's Prayer



When I'm called to duty God,
wherever flames may rage,
give me strength to save a life
whatever be its age.
Help me to embrace a little child
before it is too late
or save an older person from
the horror of that fate.
Enable me to be alert
to hear the weakest shout
and quickly and efficiently
to put the fire out.
I want to fill my calling and
to give the best in me
to guard my neighbor and
protect his property.
And if according to your will,
I have to lose my life,
bless with your protecting hand
my children and my wife.
---
Town Maintenance/Sanitation


Mark Baty
Lynn Crane
Randall Sanford


3420 Martha Vera Lane

P.O. Box 38
Cedar Bluff, AL 35959
Mark and Dell are responsible for upkeep of the Town right-of-ways, mowing and maintenance of the Town Park and Community Center. They are also in charge of garbage collection/maintenance as well as the task of spraying for mosquitoes and filling potholes.
---
BUILDING AND ZONING DEPARTMENT
Tony Brown, Building Inspector

PO Box 38
Cedar Bluff, AL 35959

Phone: (256) 779-6121
Fax: (256) 779-6148
---

All downloadable files can be viewed and printed with Adobe Reader.

The forms below may be printed and filled out, then faxed or mailed to us
(our contact info is above).
Our standards comply with the 2006 International Code.


Required Building and Zoning Permits are as follows:

Campers

Mobile Homes

Houses

Accessory Buildings

Buildings

Remodeling
Required inspections for Cedar Bluff are as follows:

Underground sewer and water lines

Sewer pump installations

Electrical services

Footings

Slabs

Framing

Plumbing

Electrical

Final inspection before occupying
Permit Applications









Petition to Annex

If you need a Petition to Annex into the Town, please pick one up at Town Hall.



Zoning Map









Zoning Ordinance